Eggnog.
You either love it or you hate it.
I made these for the Christmas Dinner I have with my mom and step-dad.
My step-dad loves to try new things, he likes the Food Network channel as much I do.
My step-dad ate almost all of them too, I didn't even have a chance to try them.
They are a perfect seasonal treat to make.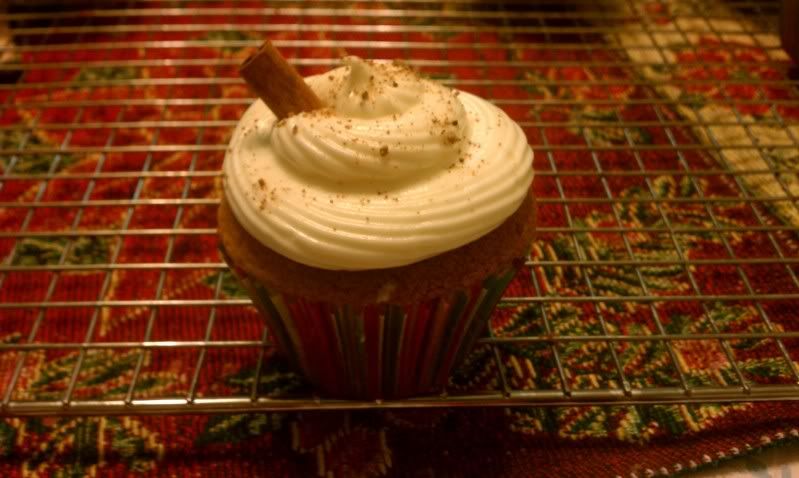 Eggnog Cupcakes
Yield: 12 standard cupcakes
For mini cupcakes, follow directions below and bake 10-12 minutes.
To make a two layer cake,
double the recipe
and prepare batter as directed.
Grease two 8" cake pans, and bake in preheated oven for 30-35 minutes.
Ingredients
1 1/4 cup

cake flour

3/4 teaspoon baking powder

1/4 teaspoon baking soda

1/4 teaspoon salt

6 tablespoons (3/4 stick) unsalted butter, room temperature

3/4 cup granulated white sugar

1 large egg, room temperature

1 large egg yolk, room temperature

1 tablespoon vegetable oil

1 teaspoon pure vanilla extract

1/2 cup eggnog, room temperature
Eggnog Cream Cheese Frosting:
8oz cream cheese, room temperature (not light or low fat)

1/2 cup (1 stick) unsalted butter, room temperature

1 teaspoon vanilla extract

2 cups

confectioners' sugar

(powdered sugar)

, sifted

Pinch of Ground Nutmeg

1-2 tablespoons eggnog, to taste

1 tablespoon Rum, to taste (optional)
Directions
Preheat the oven to 350 degrees F.
Line a cupcake or muffin pan with 12 baking cups.
Sift the flour, baking powder, baking soda, and salt into a medium-size bowl and set aside. Using an electric mixer, beat the butter and sugar together
until light and fluffy
, about 5 minutes. Scrape down the sides of the bowl. On low speed add the egg and yolk one at a time. Beat in oil and vanilla until incorporated. Gradually and add the flour mixture and eggnog, alternating between the 2, beginning and ending with the flour mixture. Do not over beat. Distribute all of the batter evenly between the 12 baking cups. Bake for 18-22 minutes, or until

a toothpick inserted comes out clean
. Cool the cupcakes completely on a wire rack before frosting.
Prepare frosting.
With an electric mixer, beat butter and cream cheese on medium speed until smooth (make sure they are both at room temperature so you do not get lumps in your frosting).
Gradually beat in powdered sugar until incorporated.
Add vanilla,

a pinch of ground nutmeg, and 2 tablespoons eggnog, add more to taste. Add 1-2 tablespoons of rum if desired
. Beat on medium speed for about 2 minutes, until smooth and creamy

.
Garnish cupcakes with a sprinkles of ground nutmeg and/or a cinnamon stick.